Summer is the perfect time to update the look of your landscaping. As spring slowly makes its shift into those summer months, start giving your yard a makeover by pulling up weeds, trimming hedges, planting new flowers, and maybe even add a new tree or two! Mow the grass, fertilize it, water it, and pick up any leftover nature trash scattered around the yard, and it will look refreshed and gorgeous for the beginning of summer!
After the initial clean-up and makeover (which is easier said than done), you are now ready to host your first annual beginning of summer barbecue! But then you remember your backyard consists of a swift step out the door, a small slab of concrete, and then grass. If you are going to host an annual barbecue, or enjoy your backyard with friends during the summer, you are going to need some serious upgrades that give your outdoor living area a little more area.
Your backyard could become the popular hangout spot this summer with the help of Marshall Home Pros! We are contractors who can basically do anything to improve your house, and we mean that! Just take a look at our services!
Now that we are done tooting our own horn, let's get into the good stuff! Your backyard can quickly and wonderfully be transformed into the place to be with the addition of a patio or deck. Not only can these additions give you a space to hang out during the summer but they can also increase the value of your home, increase curb appeal, and make your neighbors jealous, which is really why we do anything to our homes right?
But how to choose between a patio or a deck? This blog will go over some outdoor living area basics so you can make the right decision for your home!
The Difference
First we must go over the difference, because to some people a patio can be a deck and a deck can be a patio. But, they are, in fact, not the same!
A patio is on the ground, often made of cement but can also be made of material like brick, stones, tiles, and pavers. These can be as big or small as you want and do not have railings around the perimeter. Patios can feature different things such as a fire pit, hot tub, built-in barbecue, and a nice area with chairs, outdoor couches, and more! If you get really fancy with the patio setup, you could have an outdoor kitchen that gives your yard that wow factor you are hoping for.
Decks, on the other hand are generally made of material such as composite wood, treated wood, or real wood. Decks are also not built on the ground, they are raised into the air, at least a few inches, and supported from below. Since decks are lifted, for safety reasons, they will most likely be built with a railing around the perimeter and steps to the yard below. Decks can be built on the main level or can be added to an upper level of a home.
But which of these outdoor living areas is right for you? We will help you figure that out!
The first thing you must consider is whether or not your home is right on the ground or if you have some vertical room to work with. If you step out your backdoor and hit the ground instantly, a patio is the right choice for you.
Many patios are made of concrete, which while boring, can be a great choice. They can be stamped and colored to add visual appeal, they don't need as much maintenance as some other patio choices, and they last quite a long time!
But if concrete is not for you, try something more appealing and fun, like paving stones, natural stones, or even brick. Brick can be gorgeous if done right, and we can do it right. These other patio options are great for looks and can bring some true beauty to your backyard.
Patios offer more privacy since they are lower to the ground, which is nice when you are surrounded by nosey neighbors. The design of your patio can also be more flexible than with a deck. You can change the shape, size, and style, making your patio unique and fun.
But just like everything in life, besides ice cream, there are a few downsides. If the terrain of your backyard is uneven, slanted, or anything else besides basically flat, a patio is going to be a bad option. Depending on the material your patio is made from you may have issues with cracks, stains, and slippery situations when the surface becomes wet or icy.
Before you vote for or against a patio let's take a look at decks.
If your house is built on a hill or your have a yard that slopes down, a deck may be just what you need! Unless you are going to have a long and awkward staircase from your backdoor to your patio, a deck is the right choice.
Decks offer a higher ROI, most likely because they are more visually appealing to many people. Decks are generally made of real wood, composite wood, or vinyl; and each of these comes with their own pros and cons.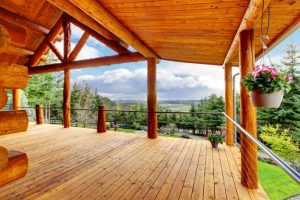 But decks can be a good choice for many reasons. They are great for an uneven terrain, with supports that can be sized to fit the land below. They are also great for a view, so if your house has a nice view in the backyard but your neighbors trees are blocking the view, a deck could help give you the extra height you need to see for miles.
Now for a few downsides to consider. First, depending on the material, decks require a lot more maintenance than patios. If not properly maintained they may have a short lifespan then you had hoped for. There are also weight restrictions on decks, meaning that your dreams of having a hot tub or outdoor kitchen added to your outdoor space will be diminished.
No matter which you choose, an outdoor living area is a great way to improve your homes value as well as your summer fun. A patio or a deck is the perfect addition to your backyard to host your summer parties. If you need help deciding which is right for you, contact Marshall Home Pros, we can give you tips and a professional opinion on the matter. Then let us build you the outdoor living area of your dreams!